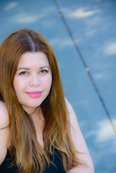 My name is Aracely Cuevas and I am a Community Fellow at the Family Justice Center in Concord, California.
My participation is to share information and build networks of support to combat abuse and understand rights. This includes recognizing dysfunctional dynamics that may be hidden or unseen.
I am a mother of two daughters: Kelsey, 19 years old, and Michelle, 22. I know what it is like to experience domestic violence first hand. I feel proud that, in breaking away from that domestic violence situation, my daughters regained their voices and their confidence in themselves. Michelle graduated from St. Mary's College on a full scholarship. Kelsey is now enrolled in college. "Momma I got another A in my lab exam" is a text I recently received from her.
My vision for victims of domestic violence is that they have safe, confidential access to services. The mission of Project Protection was to create a secret (decoy) card that connects women to the Family Justice Center safely and confidentially. By looking at this card, aggressors would not know that victims are looking for help, which could put her in more danger. Only victims would know that this card is a bridge to safety and empowerment for them and their families.
My hope is that families can break the chains of abuse and are free to experience happiness and safety, to learn, grow, to help others… to bloom.