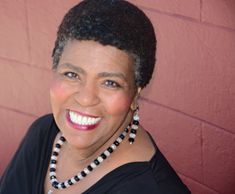 DeJeana Burkes is the Senior Community Fellow at the Family Justice Center in Richmond, California.
After retiring from a long, successful career working within the domestic violence community, Ms. Burkes has chosen to work part-time with the Family Justice Center sharing her wisdom and expertise. DeJeana is a mother of two, Bryan and Juanita. She is also a brand-new first time grandmother, to her grandson, Liam and is most excited about seeing her family grow. She knows the challenges, but also realizes the rewards of good parenting, and the value of creating a positive, peaceful environment for a family to thrive. It is this message that she shares with all who will listen.
DeJeana is fully enjoying her retirement. At fifty-eight she began a new career as a Soul/Blues Artist. She sings at various venues, events and festivals in the San Francisco Bay Area. She is also songwriter, actor, producer and a promoter. After a lifetime of experiences Ms. Burkes believes that "you are never too old to try something new and different", and encourages others to do the same. Life offers us many opportunities for growth and change, and it always offers us a second, third, even a fourth chance, to make things happen, it's called tomorrow!