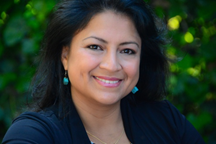 My name is Petronila Fernandes and I am a Community Fellow at the Family Justice Center in Richmond, California.
I am a mother of two boys: Joshua 7 years old and Josiah 5 years old. They are students at Ford Elementary School. At the Ford School, I am one of 4 parent leaders that formed the Ford Elementary Parents Council. Our vision for the Parents Council was to create communication between parents, teachers, school staff and the principal to better support our student's education.
The goal of Project Parents Council is to help our parents in the school to better understand how important it is to be informed, engaged and supported in our children's education. An immediate goal is to distribute a survey to parents so that they can identify their needs and those of their children. So far we have created the survey and have been in discussions about the best way to distribute it at our school.
My hope is that in my school we see more students get high scores, parents be more informed to help our children's education and that teachers, staff, parents and the principal work together in a welcoming way to create better communication for our community.